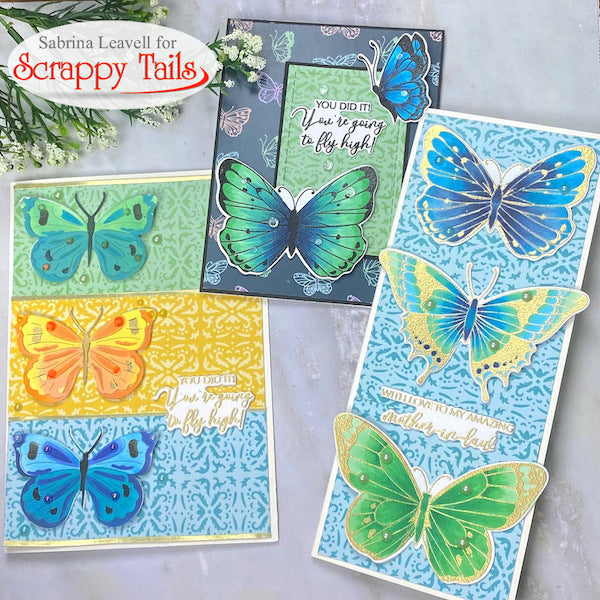 I'm still on my butterfly kick, so I came up with 10 new card designs featuring stamped, stenciled and die cut butterflies! I used supplies from our new Butterfly Kisses card kit to create these, which card is your favorite!?
Video Tutorial 
Today, I used our new "Butterfly Kisses" card kit to create 10 vibrant Spring cards. This kit has an amazing value of $60 for only $39.95! It includes....
I stamped a batch of all black butterflies and a batch of gold heat embossed butterflies. Both batches were colored with Copic Markers. I did use their coordinating dies to cut them out. 
Most of my cards were embellished with the gems, pearls and clay pieces that are included in the card kit. 
My video tutorial above does not include the stenciling for the "Hello Butterfly" stencil and die set included in the kit. I have an entire video dedicated to stenciled butterflies HERE. 
My first card was inspired by butterfly display artwork. I have a few in my craft room. Basically, it's "taxidermy" butterflies inside a clear plastic case. Normally, they're framed with a thick black frame too.
I created a similar "clear case" with a black frame for my butterflies, but I made mine into a shaker. I cut a rectangle through the front of the card so you can see the shaker through the front and inside of the card. I created this by sandwiching my shaker bits in between two acetate layers. I used the "Spring Flowers" embellishment mix from the kit inside the shaker. 
Card two is definitely my most colorful. I used every butterfly from the "Spread Your Wings" stamp set on this slimline card that I ink blended with Distress Oxide inks. 
Card three features a stenciled butterfly that I created with the "Hello Butterfly" stencil and die set included in the card kit. To see how these butterflies are made, check out my video tutorial HERE. 
This is a simple design that showcases the pattern paper really well. I chose a busier pattern for the background, and a monochromatic pattern for my circle. To separate the two papers, I matted my patterned circle with a cream one. 
  I glued the stenciled butterfly to the top half of the circle and a gold heat embossed sentiment to the bottom half of the circle. 
I always enjoy mixing up my card sizes for my 10 card 1 kit videos. For card four, I went with a square layout, with a butterfly in the center and accented with pattern papers. Below the butterfly, I added a "Hello" word die cut, also included in the card kit. 
The card was still missing something, so I decided to pull out an oldie but goodie die set, our "Slimline Lace Borders". This simple border added some nice interest behind the pink daisy pattern paper. 
Card five is my personal favorite, it's an A7 design featuring three stenciled butterflies. It was such a nice coincidence that each butterfly matched perfectly with the monochromatic prints in the paper pad! 
As you can see, I sectioned each butterfly with it's matching pattern "block". Between each block I added a strip of gold mirror card stock. This is such a simple yet beautiful card design. I love the vibrant colors! 
Card six, is not my favorite, but I do like the pattern paper I used. Again, I went with a simple layout by adding a strip of yellow pattern paper to the bottom, along with a thin gold strip to separate the patterns. Then, all I did was add two butterflies and a sentiment. 
I had to use the "Butterfly Kisses" embellishment mix that's included in the card kit. (They include tiny little clay butterfly wings!) I decided to make another shaker with them. I created the shaker using square dies from my stash. I accented the outside of the shaker with two butterflies and a sentiment. 
By the way, the "Butterfly Kisses" paper pad includes two different gradient papers, one of which I used on this card. No need for ink blending! 
We are close to the end! I had to use the navy butterfly pattern paper again, it's one of my favorites! This time, I accented it with a smaller green pattern paper rectangle, two butterflies and a sentiment! Since this design is so simple, I decided to matte all the layers with black card stock for added interest.  
At this point, I had three perfectly matching butterflies left. Because they're the larger ones, I opted to add them to a slimline card just stacked on top of each other. This may be the most simple design of the 10, but I really like it, especially with the sentiment tucked in between the two bottom butterflies!
My last card features another bright color combo, coral, green and yellow! I cut an oval from the green monochromatic pattern paper and added it to the top center of a slightly busier pattern. I did pop the oval up with additional die cuts to help it stand out more. I added a stenciled butterfly to the top of the oval and a gold "Hello" word below it. 
That's it! I hope you enjoyed my cards today, I had a blast with all these butterflies! I promise, my next one will feature birds! See you next time!
-Sabrina 
---