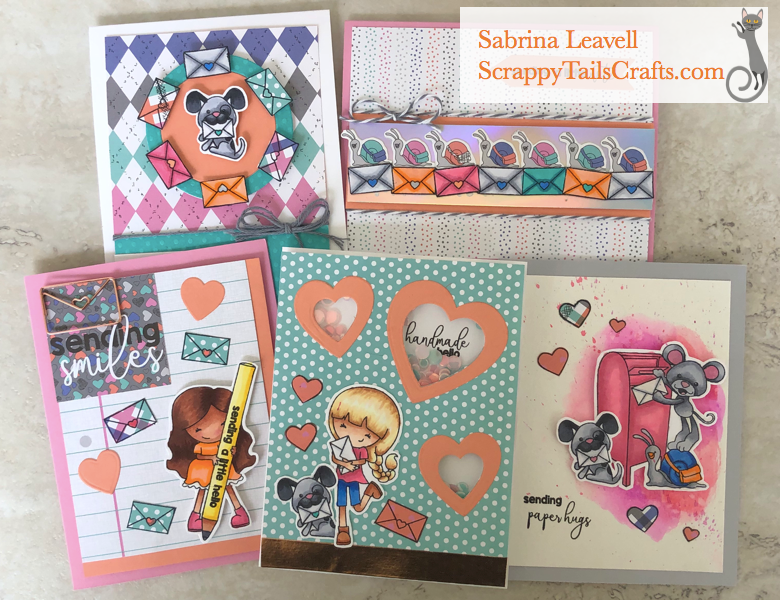 Hi everyone! 
I am here today to show you the first 5 cards that I created with the Pink and Main July 2019 "Pen Pal" card kit. I decided to subscribe to Pink and Main for 3 months to test the waters on their crafty courtyard subscription. I will say that I'm very impressed with this months kit, it came with so many products to play with! The stamp-set is adorable and I loved the small envelope die that came in the kit. All of the stamped images were created with my copic markers. I chose colors that coordinated with the paper pad that came in the kit. I created today's cards using the kit's stamp-set, sequins, pattern papers, paperclips, twine and the specialty card-stock that came in the kit! I also used the heavy weight card-stock that came in the kit to create my card bases. Here's a look at all the cards I created. Be sure to check out my Youtube tutorial to see how I created these adorable cards!
Card One:
This card features my favorite stamp in the stamp-set, the snail and the mouse delivering mail! I also added the cute pup with the envelope in its mouth (he fits in perfectly don't you think?) I created the background behind the stamped images with my red and pink zig watercolors. I scribbled both marker colors onto an Art Impressions watercolor palette.(A slick surface/glass matt would work!) Using a water brush, I moved the pigment from my palette to my card panel.There's really no technique that I used, I just created a large watercolor blob to help draw your eyes into the adorable scene. I will say that I used a lot of water on this panel to avoid getting any harsh watercolor lines! I scattered a few hearts that I created with the pattern paper in the kit and the heart outline stamp. I stamped my sentiment "Sending paper hugs" with my versafine Onyx black ink to the bottom left corner of the card. 
Card Two:
I thought it would be cute to create a shaker card with this months kit. I created the shaker panel by cutting a few heart windows using my Darice heart dies from a turquoise polka dot card panel. To help the hearts stand out, I cut a few orange heart frames using the same Darice heart dies. I added some acetate and double mounted foam tape behind my heart windows, and added the sequins that came in the kit. I layered some white paper behind the 2 smaller hearts. Behind my largest heart, I stamped my sentiment, "Handmade hello" onto a scrap white piece of paper and added that to the back of my shaker window. To embellish the card, I decided to use one of the cute girls and the pup from the stamp-set. I also added a few orange pattern paper hearts and a matching small envelope. To finish the card, I added a strip of rose gold washi tape to help ground my 2 characters.
Card Three:
I think card 3 would be a perfect teacher card! I created this one by layering the orange card-stock, the notebook pattern paper and the "sending smiles" cut apart on top of one another. I was aiming for a stacked paper look, so I could add one of the envelope paper clips that came in the kit! I popped up my little pencil girl and scattered a few pattern paper envelopes and the orange hearts that I cut out from card 2! 
Card Four:
This card is my personal favorite. Mainly because the snails with the messenger bags are absolutely precious! I made this one using the letter border stamp and a few snails that I fussy cut from the pattern paper. I added one snail to each one of my envelopes. It worked out perfectly that I had just enough snails to make this idea work. I love when the happens! I added the snails onto a rainbow mirror card-stock strip. I then popped up my rainbow strip onto an orange matte. To further accent the card, I used the bakers twine from the kit to add above and below my orange matte. I also tied a small bow with the twine and added that to the left side of my card. I then die cut an orange banner die cut and stamped my sentiment "Sending a little note". You could change the sentiment to say "sending snail mail". I think that would be super cute to coordinate with the snails!
Card Five 
For my final card, I wanted to somehow showcase the puppy stamped image. I decided to cut a few circles with my Darice circle dies from the card-stock that came in the kit. I popped up my puppy in the center of my orange circle and added a turquoise polka dot circle frame. I took the different letters that I cut out from pattern papers, and added them in a circle around my puppy. I thought this was a cute way to use the envelope border stamp! To finish the card, I added some foam tape behind my circle and popped it up onto some pattern paper from the kit. I added a strip of the turquoise polka dot paper to the bottom of the card panel. To separate the 2 pattern papers I added some of the gray twine that came in the kit. I also created a double bow with that twine and added it to the right of my card panel. I then die cut another white banner and stamped my sentiment "sending smiles" 
I hope you all enjoyed my 5 cards today, let me know which one's your favorite in the comment section below! These cards will be available for purchase on my website shorty. Within a few days, I will include links to where you can purchase these cards. I'm waiting until my last 5 cards are finished, so I can bundle the cards together!
Video Tutorial 

Supplies
NOTE: I am using affiliate links for some of the products listed below. If you decide to use these links, know that I will receive a small commission off of your purchase. This is no added cost to you as the consumer, it's just a way for us crafty friends to support one another!
If you're interested in viewing the products below, just hover over the text and click! 
Pink and Main July 2019 Pen Pal card kit: 
Zig clean color real brush markers 12 pack (includes the 2 colors I used) 
Spellbinders "Nestabilities Classic Heart" (Darice heart dies retired) 
Uline double mounted foam tape 
Heartfelt Creations "Arrows and Banners" die cuts 
Challenge
This blog post is a submission for the Simon Says Stamp Wednesday challenge:  "make your own background" 
---