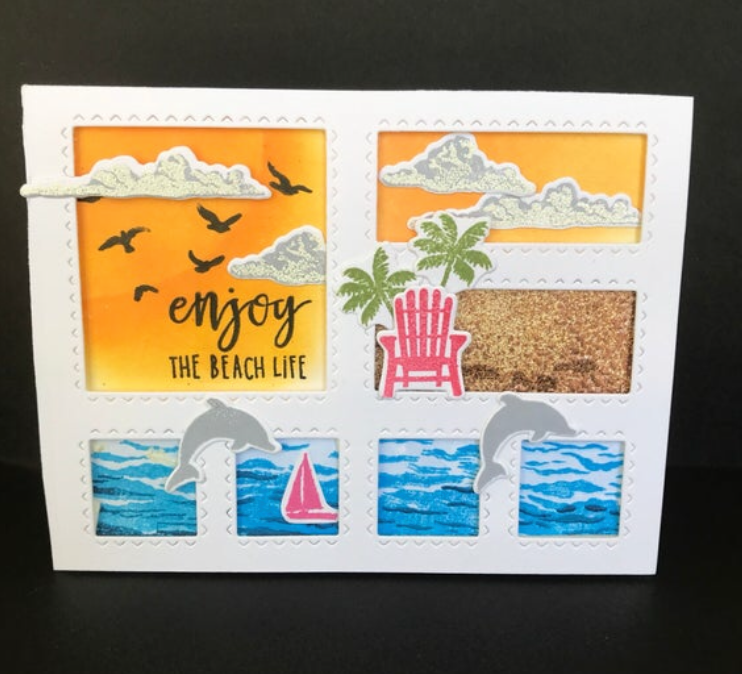 Today I am featuring a card that I created showcasing a deconstructed beach scene! This card was entirely made using contents in the June 2018 Hero Arts card kit and a die cut from Sue Wilson's "Creative Expressions" shadow box collection.
The shadow box die, cuts several different sized window shapes from an A2 sized panel (in this case a white Nina panel). In each window, I decided to use different stamped images from the kit's stamp-set to create an interesting unconventional beach scene. The bottom 4 square windows feature the ocean layering stamp. I used the inks that came in the kit to ink up the ocean. After cutting my ocean, I layered it behind the 4 square windows. To add a few cute touches to my ocean, I stamped and die cut 2 grey dolphins and added them on top of my white Nina panel. I thought they looked like they were jumping from one square to the other! I also added a small pink boat into one of the ocean squares.
The centermost rectangle features some sand that I created using the sand embossing powder that came in the kit and the foot print stamp that came in the stamp-set. To accent this window, I added a red beach chair with a few palm trees behind it, which I glued directly on the Nina panel. I really enjoy the elements that are both inside the windows and slightly outside the windows. To me, it makes the card look like one cohesive scene and adds some interest to the card. The other rectangle and the square window features a gorgeous ink blended sunset which I created using a circle mask and yellow and orange distress inks. In the square window, I also stamped my sentiment which reads, "Enjoy the Beach Life". I also decided to add the "V-shaped" flying birds stamp right above my sun. To finish the sky portion of the card, I added a few stamped and die cut clouds that I created using the inks that came in the kit. All of the ink colors I used for the stamped images are linked below, in case you're interested!
The card featured in this blog and many more Summer cards can be purchased through my Scrappy Tails Crafts website! 
Challenge
This blog post is a submission for the Simon Says Stamp Monday Challenge: Life on the Ocean Waves 
Supplies

Sue Wilson Creative Expressions "Shadow Box" die: 
https://www.amazon.com/Sue-Wilson-CED9307-Shadow-Collection/dp/B01LW78MKC/ref=asc_df_B01LW78MKC/?tag=hyprod-20&linkCode=df0&hvadid=216707316122&hvpos=1o1&hvnetw=g&hvrand=8455852458859212700&hvpone=&hvptwo=&hvqmt=&hvdev=c&hvdvcmdl=&hvlocint=&hvlocphy=9011841&hvtargid=pla-390705928976&psc=1
Hero Arts "Color Layering Waves" clear stamp-set:

https://www.simonsaysstamp.com/product/Hero-Arts-Clear-Stamps-Color-Layering-WAVES-CM316-cm316ha?currency=USD
Hero Arts "Deep Ocean" Shadow ink: 

https://heroarts.com/products/af340-deep-ocean
Hero Arts "Summer Sky" Shadow ink: 

https://heroarts.com/products/af338-summer-sky?_pos=2&_sid=d5ef492f9&_ss=r
Hero Arts "Soft Sky" Shadow ink: 
https://heroarts.com/products/af244-soft-sky-shadow-ink?_pos=1&_sid=66ef045f7&_ss=r
Memento ink "Bamboo leaves": 
https://www.simonsaysstamp.com/product/Tsukineko-Memento-Ink-Pad-BAMBOO-LEAVES-Green-ME-707-14383?currency=USD
Memento ink "grey flannel":

https://www.simonsaysstamp.com/product/Tsukineko-Memento-Ink-Pad-GRAY-FLANNEL-ME-902-45631?currency=USD
Memento ink "love letter": 

https://www.simonsaysstamp.com/product/Tsukineko-Memento-Ink-Pad-LOVE-LETTER-ME-302-45623?currency=USD
---