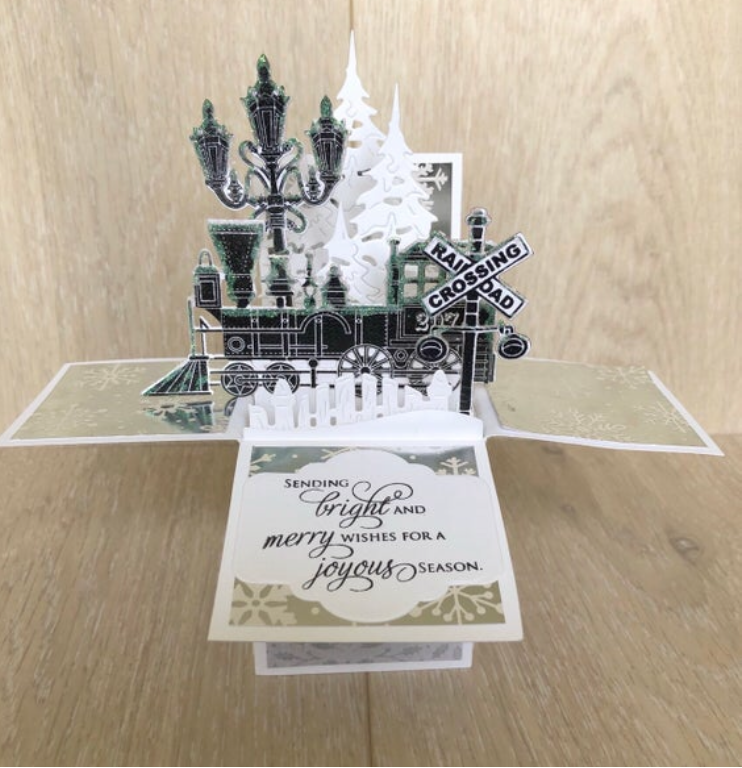 Hello everyone! For today's blog post I thought it would be fun to share a few of my Christmas pop up box cards cards that I created in July and August. These box cards are A7 sized (5 x 7 inches) and fit inside a standard A7 envelope. All of the card bases were scored and folded from heavy weight 110 lb white Nina card-stock. If you're interested to learn how I create my card bases, you can check out my video tutorial linked in this blog post. The video explains the scoring measurements as well as the construction of the box itself. Note that many companies have pop up box dies that make it very easy to create these cards. Some are A2 sized while others are A7. I will be sure to link to a few of my favorites in the supplies section! Each of my boxes have pattern papers around the tops and bottoms of them. I use pattern papers from various Christmas paper pads that I purchase from Joannes and Hobby Lobby. In this blog post, I will be showcasing 5 of my most favorite Christmas box cards that I created. For each card, I will describe the different techniques and products that I used to create the cards. If you're interested in creating any of my cards in this blog post, I will leave links to the stamps and dies that I used for each card design. However, I always encourage my readers to take inspiration from my cards and to use whatever they have in their stash to create something new and original! I tried to include many different styles of Christmas cards including vintage, whimsical and elegant just to show some variety! I made sure to include some simple designs as well as some more intricate designs. Please let me know in the comment section what you guys think of my latest Christmas in July cards. If you have any other questions feel free to ask them in the comment section, and I will sure to write back to you as soon as I can. So without further ado... lets discuss these cards! 
Card One: 
I chose this card to discuss first because it features all die cuts, and is relatively simple to create. I die cut a few trees from two shades of green card-stock and scattered them throughout the card. Having the two different tree shades really adds some interest to an otherwise simple design. It also helps to differentiate each tree. Then all I did was add a few deer which I cut from some gold foiled card-stock. I tucked a few deer behind trees to make the scene appear more natural, and that's it! This card can be easily be converted into a snowy scene just by swapping green trees for white and grey ones and having silver deer instead of gold. The sentiment was die cut twice, once from gold card-stock and once from white. I layered the gold behind the white. I often times do this with my die cut sentiments, I really think that this helps to make my sentiments stand out!
 Card Two
For this religious themed Christmas card, I decided to incorporate some stamping along with die cut images. This card definitely has a lot going on, but don't let that intimidate you, I will discuss how I created each element on this card. I first started this card by creating the focal ornament, which features a Nativity scene with Mary, Joseph and baby Jesus. I stamped this image out onto a sheet of kraft card-stock with my black ink and then heat embossed it with clear embossing powder to make sure it was completely dry. After the powder was heat set, I die cut the image from a Lawn Fawn stitched ornament. I also went ahead and die cut a smaller ornament from the same set out of some red card-stock and the ornament toppers from some gold foil card-stock. I then just glued the toppers onto my two stitched ornaments and accented the small red one with a die cut star, which is also from the Lawn Fawn ornament die set. The green ornament in the front was die cut from some gold glitter card-stock. I added green paper behind the glitter die cut and trimmed off the excess with my scissors.
I finished my ornaments by adding a small twine bow to the tops of each one. The poinsettias are by Heartfelt Creations. I created the poinsettias by first gold heat embossing them onto some red card-stock and then cutting them from their coordinating dies. I gold heat embossed the leaves from green card-stock. I shaped the flowers and leaves very simply, just using a mouse pad and a stylist tool to poke their centers and raise the petals up slightly. The gold leaves, and swirls were die cut from some gold foil and gold glitter card-stock. I used those as space fillers. You can add those where ever you want! The sentiment on the front was stamped with black ink onto a kraft die cut shape. 
Card Three:
I thought it would be fun to include a watercolor card into the mix. This card features an old vintage toy shop. The shop itself was created with a Hero Arts stamp. I first stamped it onto some kraft card-stock and then I stamped the roof onto some striped pattern paper. I fussy cut the roof and attached it to my kraft shop using some foam tape. I die cut the store-front. The die also cuts out the window. I added some acetate behind the window so it resembled the look of glass. I added a die cut wreath with pearls to the top of the store to make it even more festive. In front of the store, I added a die cut lantern and many toys including a bike, train-set and a teddy bear. All of these images were colored using a no line watercolor technique. I used marvy watercolor markers to ink up my stamps instead of black ink. Note, a no line watercolor technique is very time consuming and can be quite difficult to master (I'm definitely still learning!) However, it is a very beautiful look and makes your stamped images appear hand drawn. You can of course color these images in however you'd like!
Tutorials on no line watercolor techniques can be found on Youtube I recommend checking out Kelly Latevola, she creates beautiful watercolored images using this technique. Here's a link to one of my favorite videos by her:
https://www.youtube.com/watch?v=7UzOk1RXhbM
 Behind the toy shop, I added another watercolor rocking horse and a die cut Christmas tree that also has pearls on it as ornaments. The sentiment was stamped with black ink onto a red die cut shape. 
Card Four:
I love card four because it's in non-traditional Christmas colors. This vintage Christmas card features a lot of brown tones with hints of red. I created the "Santa Claus" newspaper with a wooden stamp I had in my stash. I stamped it with brown ink onto some cream card-stock cut down to a small rectangle. To make the newspaper look old and distressed, I purposely stamped it unevenly, so some of the words are illegible. I also added some vintage photo distress ink with a foam tool to distress the edges of the card-stock. To the top of the newspaper, I added a "NOEL" which was die cut from some red card-stock.  After I finished creating my newspaper, I die cut my typewriter from some brown, kraft and cream card-stock. I added a second die cut "NOEL" to the paper coming out of the typewriter. To break up all of the brown on this card, I went ahead and die cut a nutcracker from some red card-stock. I added  brown behind the nutcracker, but the majority of it is still red. To complete the card, I added a few gold glitter and cream die cut snowflakes around the scene. Each snowflake also has a red rhinestone in the center of them. For the sentiment, I die cut a brown "North Pole air mail" postage stamp and attached that to the front flap of my box card.
Card Five:
Out of all the Christmas cards I made so far (42 to be exact), this snowy Polar Express themed card is my absolute favorite. To create this card, I started out by stamping the train, railroad crossing sign, and lamp post. I inked each image up with Versafine Onyx Black ink, I love this ink because it always gives me a crisp black impression. I went ahead and clear heat embossed each image so they were extra shiny. I then die cut each image with their coordinating dies. To set the scene, all I did was add some white die cut tress to the back of the card and a white fence in front of the train. The card was complete once I added some glitter to the top of the train, light post and railroad sign.  
Video Tutorial 
Purchase these cards
If you love these cards but don't forsee yourself having the time or energy to make them, you can always purchase mine! I only create 10 cards of each design, so each piece is created from scratch and will never be made again. As of right now, every card showcased in this blogpost is available for purchase on my website.
If you're interested in purchasing any of the cards shown in today's blogpost just hover over the card number and click the link! 
Card One: Gold Deer Pop up Card 
Card Two: Nativity Ornament Pop up Card
Card Three: Watercolor Toy Store Pop up Card
Card Four: Vintage Santa Claus Pop up Card
Card Five: Polar Express Pop up Card 
Supplies 
NOTE: I am using affiliate links for some of the products listed below. If you decide to use these links, know that I will receive a small commission off of your purchase. This is no added cost to you as the consumer, it's just a way for us crafty friends to support one another!
If you're interested in purchasing one or more of the items below just hover over the product and click! 
Card One:
Card Two:
Card Three: 
Lawn Fawn "Pa-rum pa-rum pa-rum" stamps and dies RETIRED :(
Hero Arts "Storefront" stamps and dies UNAVAILABLE :(
Card Four:
Newspaper stamp- wooden stamp I got a long time ago I can't find it :(
Card Five: 
 Challenge
This blog post is a submission for the Simon Says Stamp Wednesday Challenge: Clean and Simple 
---