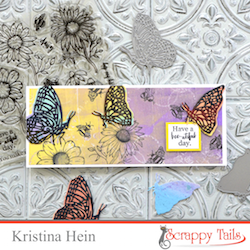 Welcome back friends!  My project for today, is a card I created using products from the Scrappy Tails Crafts March 2021 release.  I used the Oopsy Daisy 6x6 stamp set and the Sitting Butterflies dies.  Let's take a look at my card shall we?
I had more pictures of the process but I managed to delete them somehow!  So I took a few pictures of some of the pieces and then the final card.  I'll talk you through the process.
I started with this gel print I made some time ago.  When I'm not feeling very creative, I love to get out my gel plate and just play.  This results in a stack of prints for me to pull out when the mood strikes!  This purple and yellow print called to me. I cut the panel down to 3 1/4" x 8 1/4".  
Next I went to my stack of random things in my craft room.  I had swatched out some brand new shimmer watercolors earlier in the month in a rainbow order.  I grabbed the Sitting Butterfly dies and cut out the solid butterfly die six times.
I then cut out the detail butterfly die six times out of black watercolor paper that I had swatched with the same shimmer watercolors.  I used a liquid glue to adhere all of the outline pieces to the colorful solid butterflies.  
I stamped two of the daisies from the Oopsy Daisy stamp set with black ink directly onto the gel print panel.  Then I played around with the placement of the butterflies. To fill the empty space, I stamped several of the adorable bees from the same stamp set.
 Next, I adhered the gel print panel to a white, slimline card base. The two butterflies on the left side of the card I let hangover the edge of the card.  I simply trimmed off the excess.  Before I added the butterfly on the right I added my sentiment which is popped up with foam tape.  I also added foam tape to the last butterfly and placed it so it looked like the butterfly was resting on the sentiment.  
For just a tiny bit more detail I took some gray Copic markers and colored the flower centers.  And that does it!  I will be back very soon with a project from the brand new June release!  
Follow Kristina on Social Media!
---