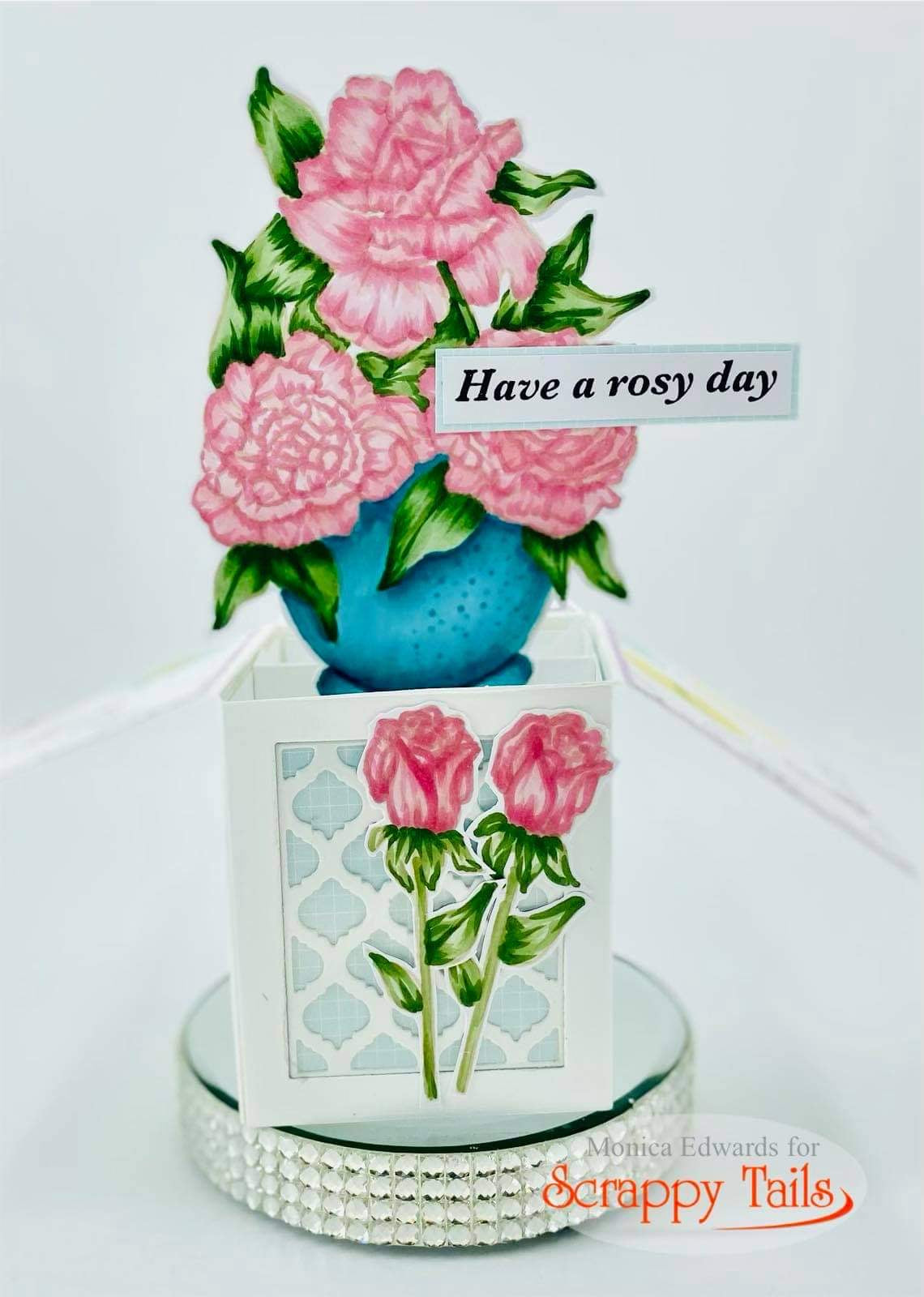 Welcome back everyone. Monica Edwards here and today I am super excited to share my first post for the Scrappy Tails Crafts design team! 2021 has arrived  and I am looking forward to an amazing year on STC. Today, I created a gorgeous A7 pop up card featuring some new and old products in the Scrappy Tails store!
Here is a view of the box panels. You could always leave the windows open which I will do and share in another blog post.I die cut then layered with acetate and patterned paper. 
Here's a step by step process to create the bottom panels:
1.  Take the main panel die from the A7 Pop up Box die set and die cut 2 card base panels. Take the decorative lattice and die cut the bottom 2 rectangles on each card base panel. This will create a window.
2. Die cut your solid pattern paper panels and your lattice panels to layer on top.
3.  Next glue a piece of acetate behind each cut out. Then add your patterned paper. I cut the pattern paper panels slightly larger so I can hide my adhesive behind the card base. You can also opt out the patterned paper and have a see through window instead!
4.  Adhere the top layers to the box flaps, I cut mine from pattern paper
5. Color your stamped images from the new "Rose Petals" 6x6 stamp set. I stamped my images with a light beige ink to do some no line coloring with my copics! Here are the copic combinations that I used
Vase: BG0000, BG09, BG15, BG53, BG57
Leaves: YG61, YG63, YG67, Touch Marker: G43
Here is my completed card, I adhered the large bouquet in the center with my sentiment that I attached to the side. I decided to glue my two single roses to the front bottom flap of the box. Let me know what you guys think of my A7 pop up card in the comments!
Follow Monica on Social Media! 
---