Hey Y'all!!!  So excited to showcase another beautiful card as part of the Design Team for Scrappy Tails Crafts.  Today my vase is full of beautiful roses.  The Flower Vase Pop Up Die from STC is such a fun die. Today, I created a mini vase, but if you cut the vase panel twice, you can create a full sized one! All of the details for this card are below (including links).  
I started by coloring on 'Premium Coloring Paper' with Distress Oxide inks. I Used Picked Raspberry and Spun Sugar.  I alternated the colors in circles all over the paper.  I Also colored a single piece of paper with Spun Sugar only. These papers I will later die cut to create the roses on the card.
   I created the beautiful vase from Stampin' UP!'s 'Bermuda Bay' and 'Coastal Cabana' card stock.  The vase is from Scrappy Tails Crafts. It's called 'Flower Vase Pop Up' Dies.  This little vase is so fun. If you'd like to see how to assemble the vase, be sure to check out Sabrina's video tutorial HERE. You can cut the base twice and make a larger vase.  It comes with blank as well as some decorative panels for the sides of the base. Included in the set are some letter dies that form the words 'LOVE' and 'XOXO'. I die cut the 'LOVE' out of the Distress Oxide paper I created earlier.    The beautiful roses in the vase are also from Scrappy Tails Crafts. They are called, 'Outlined Rose Assortment Two Layer' dies.  I die cut the shadow layer and outline layers from the paper I colored with the Distress Oxide inks.  The leaves are cut from Stampin' UP!'s 'Old Olive' card stock. The leaves are included in the outline rose die set. I cut an insert from the 'Bermuda Bay' card stock and used it as a bridge going across the inside of the vase. I Glued the stems to all three layers of the vase to create the beautiful arrangement.
Wouldn't these be fun for table settings?!
Thanks for stopping by today, Teresa!
---
Ingredients: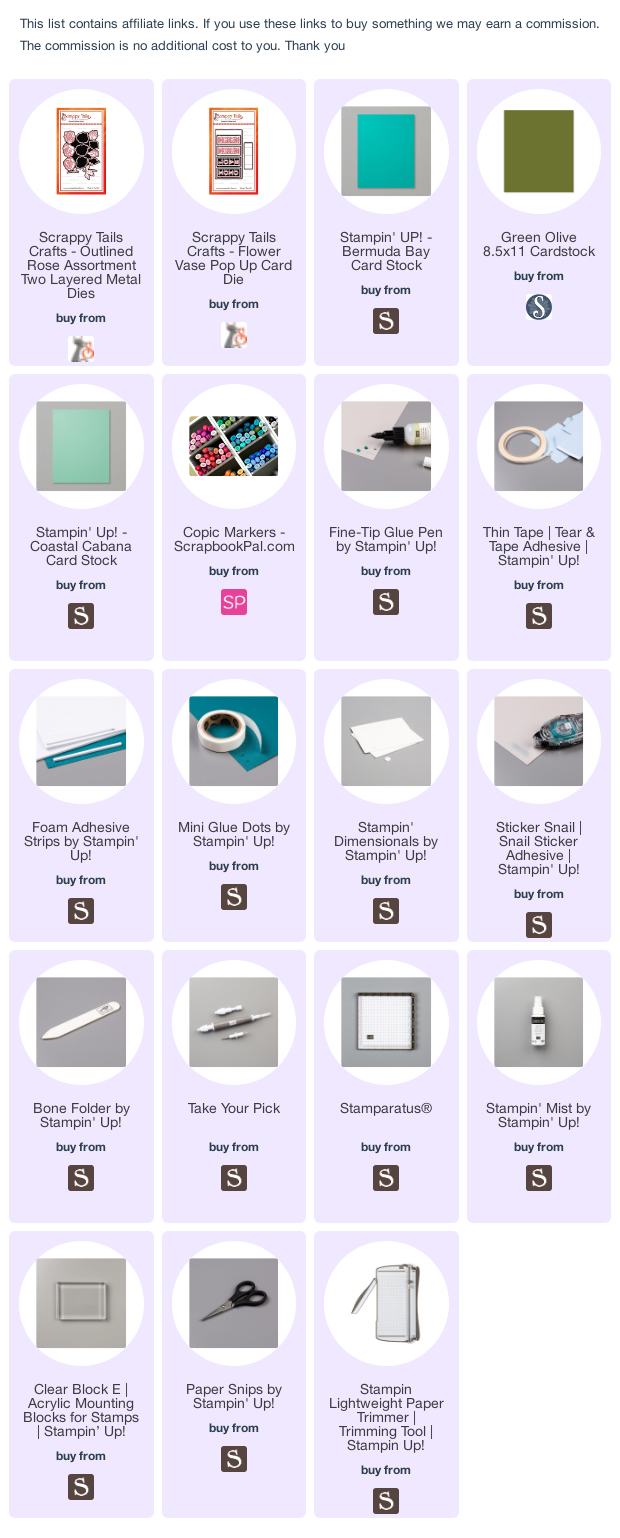 Visit my Etsy Shop ! 
Shops:
Scrappy Tails Crafts - Click [icon name="glyphicon blicon-bag" size="md"]
[divider height="5" margin_top="20" margin_bottom="20"]
Disclaimer:  I am affiliated with several fun crafting companies. 
This means when you click on one of my links I will earn a small commission if you decide to make a purchase but are at NO ADDITIONAL cost to you.
Thanks for supporting crafters!
[divider height="5" margin_top="20" margin_bottom="20"]
Click below to follow me on Facebook, Instagram, Twitter & Pinterest!
Bring All Your Ideas To Life... ♥
#lollipotsnpolkadots @teresacplunkett @lollipotsnpolkadots.com #card #diy #handmade #handmadecards #handmadecard #custommade #greetingcards #sayitinwriting #craft #papercraft #papercrafter #papercrafting #papercraftingaddict #cardmaking #cardmaker #lovepaper #paperlove #clearstamps #stamps #ilovestamps #ilovestamping #sharehandmadekindness #creative #makingcards #diycards #cardmakinghobby #cartmakerofinstagram #bethedifference #createandcapture #startofsomethingyou #startofsomethingspecial #diecutcard #cardmakinghobby #madewithlove #makeprettythings
---