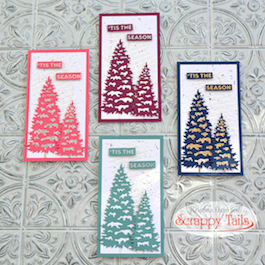 Welcome back to my blog!  It's time for another
Scrappy Tails Crafts
project!  Have you seen all of the fantastic new products in the Snow Globe Flurries holiday release?? It's jam-packed with holiday goodness.  If you can't wait and want to check it right now, head 
HERE
.
It was so hard to decide what to work with first but I absolutely LOVED the Winter Snow Trees dies.  I thought they would be perfect for making a set of mini slimline cards!  Let's take a sneak peek at the set.
Alrighty, let's jump into a brief tutorial. 
Step 1: Cut lots of snowy trees out of assorted colors.  My choices were vintage inspired.
Step 2 : Cut lots of solid trees out of white card stock.
Step 3: Glue tree layers together.  Add sparkle with various micro fine and chunky glitters in your stash to the "snowy" areas of the trees and let dry.
Step 4: Create textured backgrounds.  I used the Slimline Brick Background die to cut out a thick piece of card stock. I used this piece as a stencil for all four cards. Then, I used embossing paste through it. 
As soon as each background was dry, I splattered each with coordinating ink splatters and metallic paints.
Step 5: Adhere each background to solid, coordinating card stock. 
Step 6:  Add your trees! The smaller tree is popped up with foam tape. I also added some tiny tree trunks to the bottom of each tree.
   Step 7: Add your hot foil sentiments and complete the cards.  I used the Hot Foil Bold Christmas Sentiments and foam tape on the back.
Step 8: Admire your handiwork!
I Hope you love my mini slimline card set as much as I do!   
Until next time,
Follow Kristina on Social Media!
---