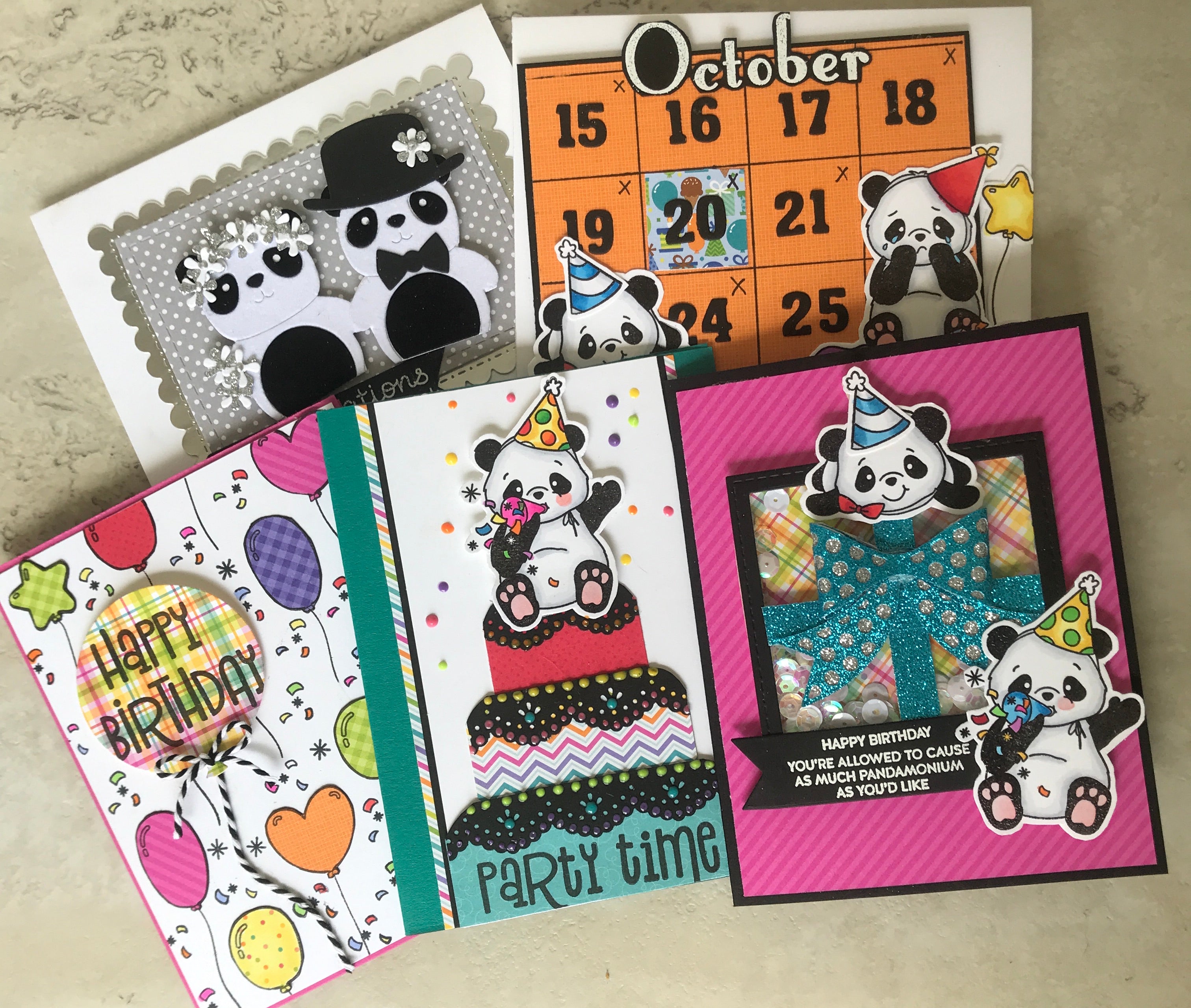 Hi crafty friends, today I'm showcasing the last 5 cards that I created with the Simon Says Stamp August 2019 card kit! I used the stamps, card-stock, pattern papers, flocked papers, sparkle pen and the panda die that came in the kit to create these adorable panda themed Birthday cards! Let me know what you guys think in the comments below, I love to read feedback on my cards. Note, I clear heat embossed all of the stamped images so I could use my copic markers with my Versafine Onyx Black ink. I really love the black crisp image that this ink provides. I colored all of the stamped images with my copic markers. I decided to color most of the birthday balloons/ accessories in rainbow colors to coordinate with the pattern papers that came in the kit. I also created my A2 sized card bases using the heavy weight card-stock that came in the kit. Below, I have provided links to the extra supplies that I used and a link to my video tutorial that explains how I created these cards! Thanks for stopping by <3 
Card Six:
Card six features a handmade birthday cake (That's right I didn't use a die!). I created a three tiered cake using some of the pattern papers that came in the kit. All I did to create the cake, was cut the papers down into small rectangle shapes. Each cake layer is slightly wider than the layer above it. I rounded the corners of each layer to make the cake look more rounded. To add a decorative touch, I added a decorative black border to each layer. The border was actually created with a Martha Steward punch I had in my stash, but any border punch/die would work for this! I further accented the cake with some nuvo drops in rainbow colors. On the bottom layer of the cake, I stamped my sentiment "Party time" with some black ink. I attached my cake onto a white 3 x 5.5 inch white strip. I also popped up my cute panda onto the third layer of the cake using some foam tape. I added a few strips of pattern paper and black card-stock to the sides of my white panel, just to add some more interest to the otherwise plain white background. After everything was adhered to my teal card-base, I added some more nuvo drops around my panda using the same colors I used on my cake. I think the drops really make the panda look like it's throwing confetti! 
Card Seven: 
I thought the crying panda would be perfect next to a calendar to demonstrate that you forgot your recipients birthday! In this case, my husbands (story in the coordinating video). I created the calendar, using a black fine liner and a ruler to create the grid lines. Inside each of the squares, I added some die cut numbers. I highlighted my recipients birthday, the 20th, with a fun pattern paper. To make it look like I forgot the person's birthday, I added "X's" on each of the numbers leading up to his birthday and a few passed his birthday. I left the 25th without an X to make it seem like that was the day when I finally realized I forgot this person's birthday! I thought this was an adorable way to highlight the "I can't believe I missed your birthday sentiment", which I stamped on the inside of the card. To further accent the card, I added the crying panda and the laying down panda to either side of my handmade October calendar. I attached the calendar and pandas onto my card-base with some foam tape.
I think this calendar idea is so cute especially if your recipient has a birthday close to a holiday. I really wanted to add a pumpkin or ghost icon on October 31st, but my husbands Birthday isn't close enough to Halloween. Just a thought if you were thinking about making this card for someone!
Card Eight: 
This card features balloons that came in the stamp-set. I wanted to create a card without the cute pandas, just to show that the balloons could create a really fun Birthday card alone. This card was fairly quick to create. I created the background first by stamping out all of the balloons onto a 4 x 5.25 inch white panel. I didn't have a specific method as to how I created this background, I just made sure not to have the same balloons next to each other. I also made sure to have some balloons going off the panel, so the panel resembled a pattern paper. After the balloons are stamped, you can fill in the left over white areas with the confetti and starburst stamp. I chose a few rainbow color copic markers to color in my confetti. If you want, you can use your copics or any other coloring medium to color in the balloons. For this card, I decided to paper piece instead. To do this, I first stamped each balloon onto different scraps of pattern papers I had left over. I chose many different colors and patterns for my balloons. I stuck with the subtle patterned papers as I knew my background was quite busy. I then fussy cut each balloon with my scissors and attached them onto my stamped panel with my art glitter glue. I decided to go around each balloon with a black marker just to clean up their edges. To finish the card, I die cut a larger balloon from some more pattern paper and stamped my sentiment "Happy Birthday" in the inside of the balloon. I popped the balloon up and added the balloon string and bow with some black and white bakers twine. 
Card Nine:
Card nine is another shaker card, in the shape of a birthday present. I die cut the bow on the present from some blue glitter card-stock and assembled it with my 3 in 1 glue. Note, if you decide to create a glitter bow, be sure to use some strong adhesive, art glitter glue did not hold the bow together for me. I added a few strips of glitter paper to the center of the package to make it look like a tied ribbon. The shaker itself features white and clear iridescent sequins. I kept the shaker contents simple, since my package had a glitter polka dot bow and a busy pattern paper underneath. I decided to white heat emboss the sentiment "Happy birthday you're allowed to cause as much pandamonium as you'd like" onto a black die cut banner. I stuck the banner underneath my sitting panda. I then adhered both my panda and sentiment over my shaker. I also attached the adorable laying down panda to the top of my shaker, did I mention he was my favorite panda?? I then attached everything onto a pink card panel and then onto my black card-base. 
Card Ten:
First a Christmas panda card, now a wedding panda card? yes please. Card ten is definitely my favorite. Since pandas are black and white, I thought they'd be very fitting for a "traditional" black and white themed wedding card. I die cut these pandas from the flocked paper that came in the kit. I also die cut a top hat, bow tie and a few flowers to adorn my panda groom and bride. I gave my boy panda the top hat and the bow tie, I also added a small flower to his hat. For the girl panda, I gave her an adorable flower crown and a bouquet. Each flower center is accented with some silver nuvo drops. I popped up each of my pandas onto a stitched rectangle, which I die cut from some grey polka dot paper. I then popped the stitched rectangle on top of a silver foiled stitched scalloped rectangle. I white embossed my sentiment "congratulations you tied the knot" onto a black die cut banner and added that to the bottom of my two pandas. 
These pandas can work for many occasions and holidays. For Christmas you can give them santa hats, for Halloween maybe a witch hat and a broom? 
Video Tutorial 
Supplies
NOTE: I am using affiliate links for some of the products listed below. If you decide to use these links, know that I will receive a small commission off of your purchase. This is no added cost to you as the consumer, it's just a way for us crafty friends to support one another!
If you're interested in purchasing one or more of the items below just hover over the product and click! 
the Simon Says Stamp shop is having a sale on their products! Use offer code SSSFLASH at checkout to receive 20% off your purchase. 
Simon Says Stamp August 2019 Card Kit- SOLD OUT :(
Challenge
---