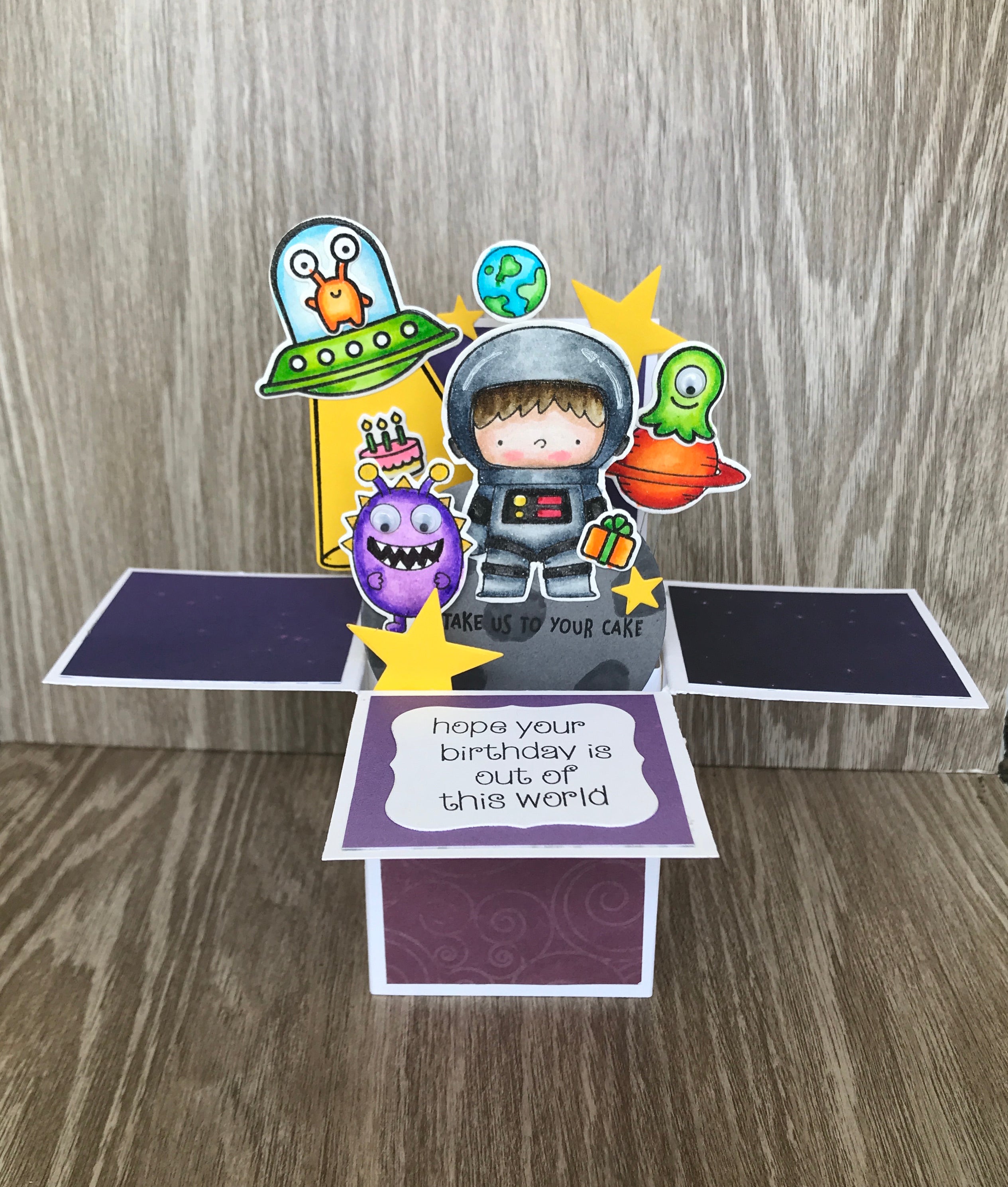 Hey everyone! Today I decided to showcase one of my favorite Birthday cards that I created this month. This adorable card features an MFT astronaut, Lawn Fawn and Clearly Besotted aliens and some Memory Box die cut stars! I created this card by first stamping out all my images including the aliens, astronaut, planets, floating cake and my alien's space ship using some Versafine Onyx Black ink. I then added some clear embossing powder over the stamped images,because I knew I was going to color them using my zig Clean Color Real Brush Markers. After coloring and die cutting each stamped image, I set them aside and created the moon that my little astronaut is standing on. I made the moon by die-cutting a circle out of some grey card stock. I then used a C6 Copic marker to add some craters onto my moon (basically just grey splotches!) To finish the space scene, I thought it would be fun to add some bright yellow die cut stars to add throughout the card.
After all that was finished I was able to attach everything into my card base, which I created using some heavy weight 110 pound white Nina card-stock and some purple pattern papers that I had in my stash. I placed an alien and my astronaut onto my moon. I then adhered my spaceship alien using acrylic sticks behind the astronaut so he appeared to be floating on top of him. I also added another alien behind him that I decided to have sitting on top of saturn. To finish the card, I added my final planet earth to the very back of the card and then decided to scatter my die cut stars around the card wherever I felt I needed a few to fill the remaining space. After my space scene was complete, I decided to stamp my sentiment onto an ornate shape die cut. The sentiment reads, "Hope your birthday is out of this world!" This sentiment is also from that Clearly Besotted alien themed stamp set. 
View from the back of the card. I used my Lawn fawn gift card die to create the gift card holder on the back of my card! I typically do this for all of my Birthday cards. 
This card can be purchased through my website using the following link:
https://scrappytailscrafts.com/collections/birthday/products/astronaut
Challenge
This blog post is a submission for Simon Says Stamp Wednesday Challenge: stars and/or stripes 
Products
Clearly Besotted "Out of this World" clear stamp set: 
https://www.simonsaysstamp.com/product/Clearly-Besotted-OUT-OF-THIS-WORLD-Clear-Stamp-Set--CLBT183?currency=USD
Lawn Fawn "Beam me up" clear stamp set: 
https://www.simonsaysstamp.com/product/RESERVE-Lawn-Fawn-BEAM-ME-UP-Clear-Stamps-LF1597-nlf1597?currency=USD
Lawn Fawn "Beam me up" coordinating lawn cuts:
https://www.simonsaysstamp.com/product/RESERVE-Lawn-Fawn-BEAM-ME-UP-Lawn-Cuts-LF1598-nlf1598?currency=USD
My Favorite Things "Space Explorer" clear stamp set:
https://www.simonsaysstamp.com/product/My-Favorite-Things-SPACE-EXPLORER-Clear-Stamps-BB43-FBMFTBB43?currency=USD
My Favorite Things "Space Explorer" coordinating die set:
https://www.simonsaysstamp.com/product/My-Favorite-Things-SPACE-EXPLORER-Die-Namics-MFT1058-FBMFT1058?currency=USD
Memory Box "Over the Moon and Stars":
https://www.acherryontop.com/shop/product/303055-Over%20The%20Moon%20And%20Stars%20-%20Memory%20Box?utm_source=google_products&utm_medium=product_feed&utm_campaign=google_feed&gclid=Cj0KCQjw9pDpBRCkARIsAOzRzityvhwzXqvcF-B1OjMekjbvxFR6glgtHIK3PYMT7PLhMoGlh9FZrl0aAukHEALw_wcB
---