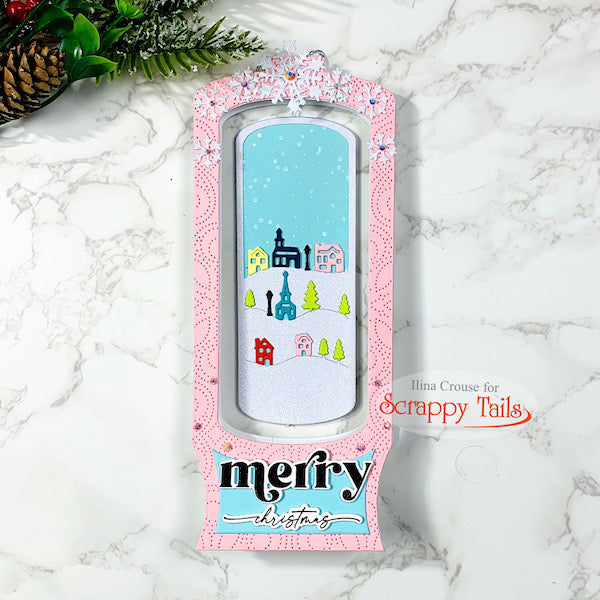 To make the card, I started by cutting a total of 4 frames for my snow globe base. To create a frame, use the largest base die that comes in the die set and the largest rounded rectangle die to nest inside. One of my frames is light pink (this will go in front) and the rest are white. I used heavy weight card stock for all of the frames.
Using a pierced slimline die from my stash, I added some texture to the pink piece. Next, I adhered the layers together ( 2 at a time, you will need 2 frames for the front and back of your card). Then, set aside to dry.
I cut the connecting accordion pieces (1 base, 2 sides and 1 top)  from lighter weight white card stock and scored along the lines). I used lighter weight card stock for this to ensure it'll fold completely flat inside my envelope. I folded and attached all of the accordions to my card base. To see how to assemble one of these cards, check out Sabrina's video tutorial HERE.
Then, I die cut some snowflakes from white glitter card stock. I used a combination of snowflakes that come in the Winter Essentials die set and the Snowflake Spinner die set. Set those aside and stamp and die cut your sentiment.
Next, die cut the spinner element. Cut 2 snow villages from white glitter cardstock and also cut the individual houses, trees and lamp posts from card stock colors of your choice.
Die cut the smaller coordinating spinner element from the Slimline Snow globe die twice from Waterfall blue card stock and 2 from White. Stamp snowfall on the Waterfall pieces using white craft ink, and set aside to dry. Add the Snow Village Frames on top, and then paper piece all the little houses, trees and lamp posts. Let it completely dry.
Add your spinner inside the globe. To do this, add a piece of silver thread through the top accordion piece (there's a hole to add your knotted string) Then, glue your village spinners back to back, wedging the piece of string between both pieces.
Finish your card by adding your sentiment to a blue trapeze snow globe base. Glue your snowflakes on the top of the snow globe and embellish with gems.
Thank you so much for stopping by, I hope you all have an amazing day!
Follow Ilina on Social Media!
---