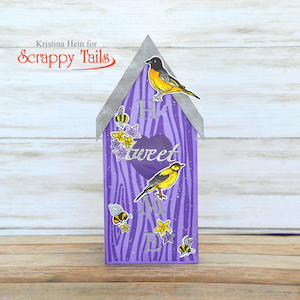 Howdy and hello!  Today's project features several new products from the latest
Scappy Tails Crafts
release.  Have you had a chance to check out all the great new goodies from the Home Is Where Mom Is release?  You can see them all right 
HERE
.
Let's take a look at my project.
I cut the main house die out of a piece of light purple cardstock.  Next, I used the
Slimline Woodgrain die
to cut a light and dark piece of purple cardstock.  I glued the light purple layer onto the main house piece and then inlaid all of the dark purple pieces.  I trimmed off the ends that hung over at the top.  I used a dark purple ink and a blender brush to go around all the edges of the house panel.
Next I took the large heart and the letter dies from the Birdhouse die set.  I lined them up on the front of the house panel.  I ran the whole thing through my die cut machine and removed the cut pieces.  On the back side of the house panel I glued some gray cardstock just behind the letters.  I also cut the roof piece out of the same gray cardstock twice.  One piece I adhered straight to the panel.  The second piece I used a texture embossing folder on it to give it some, well, texture.  I added bits of foam tape only on parts of the back before adhering it over the piece on the house panel.  I rubbed my teflon folder over it so the cardstock would bend a little between the pieces of foam tape.  
 Next I added silver splatters.  I also used the same silver to lightly paint the roof.
I cut another light purple panel using the main house die.  This will be for the back of my bird house.  I grabbed a stencil from my stash and applied purple ink with a blending brush.  This way it won't just be plain when you look through the heart shaped window.
I set the panels aside and stamped out several elements from the Oopsy Daisy 6x6 stamp set and the Spring Birds 6x8 stamp set.  I used a Copic markers to color them all.  I scoured the internet for pictures of yellow birds.  I used a yellow Finch and a yellow Oriole as my inspiration.
 I love the adorable bees from Oopsy Daisy!  I added tiny touches of Unicorn Stickles to the bee wings and the flower centers.  
I just love the Slimline Birdhouse Pop Up die!  It's so unique!
 We've made it to the end of my post and I hope you found something you can't live without! ;-)Don't forget you can use the code STCBLOG10 for 10% off your order.
 See you soon!
~Kristina
Follow Kristina on Social Media!  
---