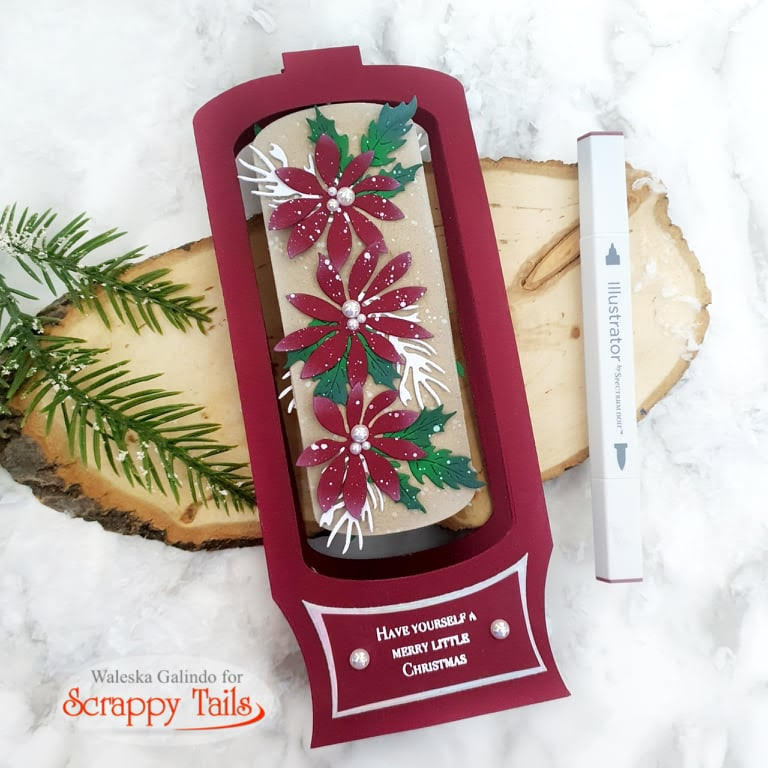 Hello Friends,
Waleska
here, with a beautiful Slimline Spinner card. I love the recent products released by Scrappy Tails, they are so unique and you can make the most beautiful pop up cards with them.
CARD DETAILS:
I started by cutting all the pieces you need to create the Slimline Snow Globe pop up card with a Burgundy card stock. I love this deep red color, it was actually the inspiration behind this card. 
To learn how to build these snow globe cards, check out Sabrina's video tutorial HERE.  After assembling the Slimline Snow Globe card, I die cut pieces for my spinner element.
I wanted to create a whimsical poinsettia arrangement. To do that, I used the Whimsical Layering Daisies die set. These are daisies, but when I cut them with the same burgundy color I used before, they totally look like poinsettias! 
To add dimension, I added some white pigment ink to the tips of each flower petal. I also accented the centers of each of my poinsettias with white pearls. 
I also tucked some die cut leaves and pine needles under my poinsettias. I inked the tips of the leaves with dark green ink for added dimension.
I glued everything to a kraft base panel cut from the same slimline snow globe die set. I also inked the edges of it with white pigment ink. 
To add my swinging centerpiece into my card, I die cut another kraft base panel. I strung some thread through the top of the card and glued the two kraft panels back to back, wedging the string in between. Now, not only does your card fold flat and pop up, but it also swings/spins!
Finally, I added the sentiment  with white embossing powder, and this card will be displayed at my home all Season long! 
I hope you have an amazing day! Thank you so much for stopping by today!
Follow Waleska on Social Media!
---